March 18, 2017
Episode #011 of the Sound Matters Show kicks off with Tom's inside look at the big business inside the country music business, and highlights the top Country artists of 2016. This week's Song Spotlight is Jason Aldean's hit track "A Little More Summertime." >> Tom's in-depth interview with former White Lion frontman Mike Tramp is featured.
Inside the Interview:
02:25 – Does he miss the old days of the music business?
03:19 – Does the resurgence of the 80's & 90's era of music surprise him?
05:00 – On technology and music today…
06:07 – Is music still all about the song, even today?
07:53 – On Mike's new solo album Maybe Tomorrow and the first single "Coming Home"…
12:38 – Is it a conscious decision to separate music from image?
14:02 – On Mike's three previous solo albums: Nomad, Museum, Cobblestone Street…
15:16 – On working with producer, Soren Andersen
16:52 – On the song "High Like A Mountain"…
18:33 – On sobriety and health…
20:02 – On Mike's current solo touring band…
21:28 – On touring in 2017 and the content of the set list…
23:50 – On Mike's honesty and forthrightness…
21:28 – On touring in 2017…
25:23 – Why won't there be a White Lion reunion?
27:03 – If Vito Bratta ever called him to reunite, would he do it?
Connect with Mike Tramp:
Website: www.miketramp.dk
Facebook: www.facebook.com/MikeTrampOfficial

A 'Sound Matter Moment' >> www.soundmatters.tv/the-pretender
To sponsor the Sound Matters Show or to book Tom Leu for appearances, please email us at soundmattersshow@gmail.com with inquiries.
Click below to listen to a recent Sound Matters show episode: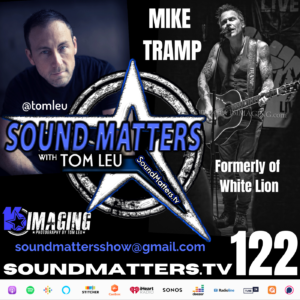 About the Host