April 22, 2022
Episode #122 – The Podcast: (also on Spotify, Apple Podcasts, Amazon Music, Google Podcasts, iHeartRadio, Stitcher, TuneIn Radio, & Spreaker)
Sound Matters episode #122 features Tom's 2nd interview with former White Lion vocalist, songwriter, and frontman Mike Tramp from 2019 talking about his 11th solo album Stray from the Flock, his approach to songwriting and his career today. A quick outside beer garden conversation before a solo gig in Sarasota, FL.
SOUND MATTERS Facebook Group: www.facebook.com/groups/soundmatters
Connect with Mike Tramp:
Website: www.miketramp.dk
Facebook: www.facebook.com/MikeTrampOfficial
To sponsor the Sound Matters Show or to book Tom Leu for appearances, please email us at soundmattersshow@gmail.com with inquiries.
Click below to listen to a previous Sound Matters show episode: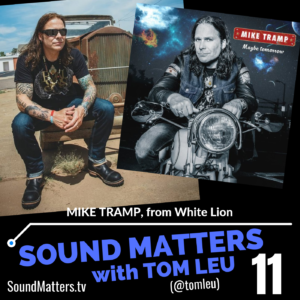 Stay tuned in…
About the Host