May 01, 2021
Episode #109 – The Podcast:(also on Spotify, Apple Podcasts, Amazon Music, Google Podcasts, iHeartRadio, Stitcher, TuneIn Radio, & Spreaker)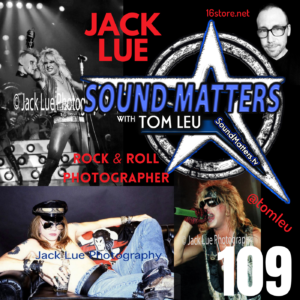 Sound Matters episode 109 features another favorite conversation… photography and specifically, music photography. Tom welcomes renowned Los Angeles-based rock photographer Jack Lue to the show. Jack is best known as Guns 'N Roses first photographer, and from his early, iconic work on the Sunset Strip in Hollywood back in the late '70's and early '80's. This was a fun conversation as I dig into Jack's long and storied photography history past and present.
Inside the Interview:
Same last name, different spelling – (02:13)
Shooting Guns 'N Roses on the latest tour – (02:40)
Learning film photography, seeing Kiss on the Midnight Special TV show – (06:21)
Getting started shooting local bands in clubs in the late 70's – (08:57)
Ticket scalping at the LA Forum, shooting national acts – (11:17)
Selling prints at swap meets & meeting Motley Crue's manager – (13:28)
Getting prints in Brian Slagel's fanzine – (14:51)
Winning Hit Parader Magazine photo contest – (15:57)
Shooting Motley Crue in the early days – (17:52)
Networking and work ethic to get into prime positions to shoot at shows – (21:50)
Navigating through the rise of the Sunset Strip scene – (23:59)
Jack's large archive of photos no one's seen yet – (27:36)
Working with his idol Neil Zlozower and making money as a concert photographer – (29:43)
Jack's take on all the "photographers" today, how to differentiate, and stand out – (33:13)
Jack's shooting preferences, gear, and future book? – (36:32)
Capturing "moments" as a concert photographer – (40:55)
Working with Guns 'N Roses in the early days – (42:44)
Taking a hiatus from photography and returning to shooting – (47:04)
The nice guys in rock and roll – (50:46)
Protecting photos from online theft and licensing shots – (52:15)
Advice for up and coming photographers – (55:17)
Supply and demand in photography and not being discouraged – (56:44)
Shooting 80 bands in one day – (57:24)
Post-processing today vs. film back in the day – (58:54)
A trip through several of Jack's IG photos, the set-up, the backstories, etc. – (61:54)
Jack's current work shooting female rock bands and models – (66:58)
Jack's feelings about being a local LA celebrity photographer – (69:56)
Connect with Jack Lue:
Facebook: www.facebook.com/jackluephotography
Instagram: www.instagram.com/jacklue
If you, your business, brand, or organization is interested in advertising and/or sponsoring Sound Matters, please email us at soundmatters@tomleu.com with inquiries.
Until we meet again… Stay tuned-in…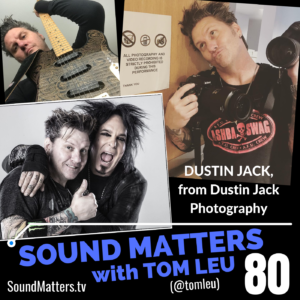 About the Host