March 25, 2017
Episode #110 – The Podcast:(also on Spotify, Apple Podcasts, Amazon Music, Google Podcasts, iHeartRadio, Stitcher, TuneIn Radio, & Spreaker)
Episode #012 of the Sound Matters show kicks of with some highlights from This Week in Music & Entertainment history. Spotlighted artists and tracks this week: Iron Maiden's "Hallowed Be Thy Name" from The Number of the Beast, "Long, Long Way from Home" from Foreigner, "Back For More" from Ratt's Out of the Cellar, and "Over The Mountain" featuring Randy Rhoads from Ozzy's Diary of a Madman. In this week's "drummer's episode," Tom pays tribute to former Boston drummer, Sib Hashian, and at >> this episode features the Sound Matters interview with Kelly Keagy of Night Ranger. Each Sound Matters show episode concludes with Tom's signature Sound Matter Moment.
On This Episode:
Featured Artists: Iron Maiden, Foreigner, Ratt, Randy Rhoads…
Sound Matters Spotlight: "Hallowed Be Thy Name" by Iron Maiden, "Long, Long Way From Home" by Foreigner, "Back For More" by Ratt, "Over The Mountain" by Ozzy Osbourne
Drummers Who Rock, Write, & Sing…
RIP Sib Hashian, former Boston drummer – Track: "Foreplay/Longtime"
Sound Matter Moment… "Slave to the Grind"
Inside the Interview:
02:30 – On Night Ranger's latest album Don't Let Up…
03:07 – On Night Ranger's experiences making records throughout their career…
04:30 – On self-producing albums these days…
05:07 – On working with Brad Gillis and Jack Blades all these years on…
05:49 – Is there still pressure to write and record new music these days?
06:42 – On the song "Truth" from the new album…
07:25 – What still drives him and Night Ranger at this point in their career?
08:40 – Does Kelly find it difficult being a drummer and songwriter simultaneously within the band?
10:01 – How do they decide how vocals are handled on Night Ranger songs?
11:17 – On how Kelly approaches drumming within the context of songwriting…
12:32 – What are some great, overlooked songs in the Night Ranger back catalog?
14:20 – On the future of Kelly's solo projects with Bill Champlin and with The Mob…
16:44 – Who would Kelly like to interview and why?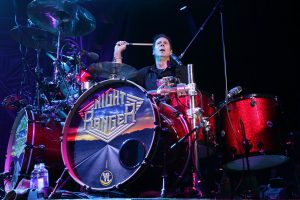 Connect with Kelly Keagy:
Website: www.NightRanger.com
Facebook: www.facebook.com/KellyKeagyMusic
Twitter: www.twitter.com/KellyKeagy (@KellyKeagy)
A 'Sound Matter Moment' >> www.soundmatters.tv/slave-to-the-grind
To sponsor the Sound Matters Show or to book Tom Leu for appearances, please email us at soundmattersshow@gmail.com with inquiries.
Click below to listen to recent Sound Matters show episode: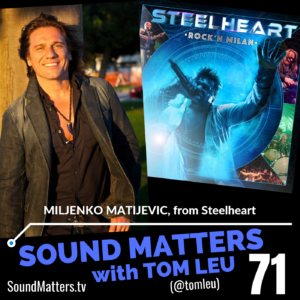 Stay tuned in…
About the Host