May 21, 2021
Episode #110 – The Podcast:(also on Spotify, Apple Podcasts, Amazon Music, Google Podcasts, iHeartRadio, Stitcher, TuneIn Radio, & Spreaker)
Loren Gold is the longtime keyboardist for The Who and Roger Daltrey solo, and has also toured with Kenny Loggins, Don Felder and many others. Loren and I deep-dive his impressive and diverse musical resume as a touring keyboardist, singer/songwriter, and musical director for Pop acts such as Selena Gomez, Demi Lovato, and American Idol's Taylor Hicks. Loren has also recorded several solo instrumental albums, written music instruction books, and like me, has a deep appreciation of the artists and bands from the 60's and 70's among others. This was a fun and wide-ranging conversation with a very talented music industry insider and very cool guy to boot.
Inside the Interview:
Growing up in a musical family
Piano lessons
The power of The Beatles
Singer/songwriters of the 60's and 70's
Artist "development" these days
Music technology
Musical Director for Selena Gomez & Demi Lovato
Playing and personality
Touring with Roger Daltrey and The Who
Working with Kenny Loggins and Don Felder
Loren's solo catalog
Working with Taylor Hicks from American Idol
Cover of the "Pina Colada Song" and others
Touring post-Covid
Approach to songwriting when collaborating
Loren's instructional books
Songs for film and television
The past pandemic year
Baseball enthusiast
Advice he'd give his younger self
Connect with Loren Gold:
Facebook: www.facebook.com/lorengold
Instagram: www.instagram.com/lorengold
>> If you, your business, brand, or organization is interested in advertising and/or sponsoring the Sound Matters Show, please email us at soundmattersshow@gmail.com with inquiries.
Until we meet again… Stay tuned-in…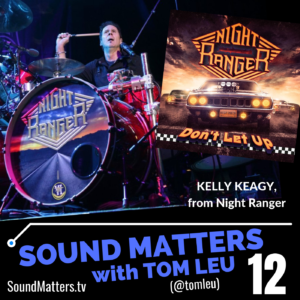 About the Host