April 02, 2019
Sound Matters episode #079 features Tom's conversation with Phil Lewis from L.A. Guns, an American hard rock band from Los Angeles, California, formed in 1983. Lewis along with founding guitarist Tracii Guns, who were previously estranged and performed in separate versions of the band for several years, have reformed L.A. Guns, and are once again writing, recording and releasing new music together. I caught up with Phil Lewis to discuss the band's latest album, The Devil You Know, as well as The Missing Peace from 2017, the reconciliation with Tracii Guns, some drama with past members, Phil's former bandmate, Def Leppard's Phil Collen, and more. Phil shared plenty of insights and more than a few stories in this conversation.
On This Episode:
Sound Matters Radio INTERVIEW guest: Phil Lewis from L.A. Guns.
Episode #079 – The Podcast: (also on Spotify, iTunes, Google, iHeartRadio, Stitcher, TuneIn, & Spreaker)
Inside the Interview:
02:38 – About the differences with the new album, The Devil You Know…
05:58 – On the reconciliation with Tracii Guns…
06:58 – The songs on The Devil You Know, and the differences from The Missing Peace…
14:19 – On writing lyrics today, not repeating yourself, and recording vocals…
17:03 – On L.A. Guns' longevity…
17:46 – On the latest drama with former drummer, Steve Riley…
20:43 – Phil's journey to L.A. Guns and writing the first tunes…
23:28 – On Phil's relationship with former bandmate, Phil Collen…
24:27 – On Phil's short-lived job as a telephone psychic…
26:16 – Phil's advice to a young Phil Lewis coming up in the world…
Connect with Phil Lewis:
Website: www.lagunsmusic.com
Facebook: www.facebook.com/L.A.GunsOfficial
Instagram: www.instagram.com/philmusic1 (@philmusic1)
Instagram: www.instagram.com/laguns (@laguns)
Episode Sponsors:
>> If you, your business, brand, or organization is interested in advertising and/or sponsoring the Sound Matters Show, please email us at soundmatters@tomleu.com with inquiries.
Until we meet again… Stay tuned-in…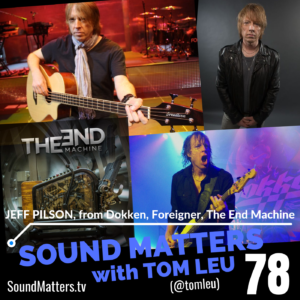 About the Host