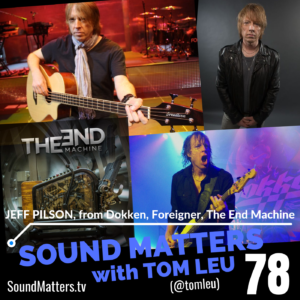 March 30, 2019
Sound Matters episode #078 features Tom's conversation with Jeff Pilson from Foreigner, Dokken, & The End Machine. Jeff is an American musician and accomplished producer who is currently the bass guitarist for the rock and roll institution known as Foreigner. Pilson, along with guitarist George Lynch and drummer Mick Brown are probably best known as the classic line-up of the melodic hard rock band, Dokken. Jeff has also performed with Dio, and many other bands, and recently completed the debut, self-titled album for The End Machine along with Lynch, Brown, and Warrant vocalist Robert Mason. As an actor, Pilson played fictional heavy metal bassist Jörgen, in the 2001 film Rock Star. Jeff's energy and enthusiasm for music, decades on into his very successful career, is infectious and refreshing. And it was an absolute pleasure to speak with him.
On This Episode:
Sound Matters Radio INTERVIEW guest: Jeff Pilson from Foreigner, Dokken, and The End Machine.
Episode #078 – The Podcast: (also on Spotify, iTunes, Google, iHeartRadio, Stitcher, TuneIn, & Spreaker)
Inside the Interview:
02:56 – On how The End Machine came into existence…
04:40 – On the first song and video release for "Alive Today"…
06:22 – Is The End Machine a band or a project?
07:56 – On getting "deeper" with the music on The End Machine…
09:54 – About the song "Sleeping Voices"
13:16 – About Robert Mason as a vocalist and performer…
14:24 – On working with Robert on The End Machine vs. producing Warrant…
16:51 – On the genesis and meaning of The End Machine name…
18:31 – On Jeff's upcoming project with Robin McCauley, Reb Beach, and Matt Starr…
21:03 – Jeff's take on the music business today…
21:56 – On Jeff's increasing role as a producer…
23:31 – What has Jeff learned from working with Mick Jones from Foreigner…
25:29 – What's on the horizon for Dokken?
27:21 – What advice would Jeff give a young Jeff Pilson coming up?
Connect with Jeff Pilson:
Website: www.jeffpilson.com
Facebook: www.facebook.com/TheEndMachine
Facebook: www.facebook.com/officialjeffpilson
Twitter: www.twitter.com/jeffpilson
Instagram: www.instagram.com/therealjeffpilson (@therealjeffpilson)
Episode Sponsors:
>> If you, your business, brand, or organization is interested in advertising and/or sponsoring the Sound Matters Show, please email us at soundmatters@tomleu.com with inquiries.
Until we meet again… Stay tuned-in…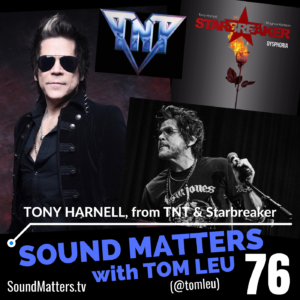 About the Host