December 01, 2018
Episode #070 – The Podcast: (also on Spotify, iTunes, iHeartRadio, Stitcher, TuneIn, & Spreaker)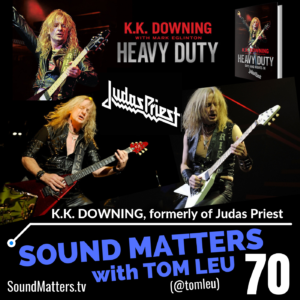 Sound Matters episode #070 features Tom's in-depth conversation with the legendary K.K. Downing, formerly of Judas Priest. Tom and K.K. dive into his great book Heavy Duty, Days and Nights in Judas Priest, where he pulls no punches about his experiences growing up, forming one of the greatest heavy metal bands in history, it's aftermath, and many intimate details about his life in and out of the band, past and present. I found K.K. to be pleasant, forthright, accommodating, and in a word… classy.
Inside the Interview:
05:29 – What it's like succeeding as an author…
06:28 – Reasons for initially being reluctant to writing a memoir?
07:45 – Most difficult part of writing an autobiography, and the writing process?
14:57 – Excerpt from the book that sets the tone for what's to come…
20:20 – On being diplomatic in a band for decades…
22:25 – On being personally transparent…
25:54 – Why it even shocked him when he decided to leave Judas Priest…
28:24 – On making "the ultimate sacrifice" and thoughts on solo albums…
37:23 – On band line-ups and new members…
42:55 – K.K.'s meticulous style of learning guitar…
45:36 – Overlooked gems in Judas Priest's back catalog?
46:37 – K.K.'s view of songwriting and the evolution of Heavy Metal…
48:32 – On Priest's legacy and K.K.'s thoughts of the Rock and Roll Hall of Fame…
50:12 – What has over four decades in music taught K.K. Downing?
51:32 – What advice would K.K. give a young Ken Downing?
52:50 – About www.kkdowning.net
Connect with K.K. Downing:
Website: www.kkdowning.net
Facebook: www.facebook.com/kkdowningsteelmill
Instagram: www.instagram.com/kkdowningsteelmill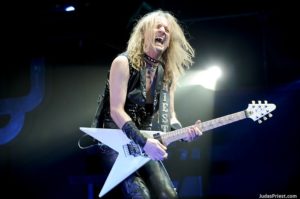 Episode Sponsors:
If you, your business, brand, or organization is interested in advertising and/or sponsoring the Sound Matters Show, please email us at soundmatters@tomleu.com with inquiries.
Until we meet again… Stay tuned-in…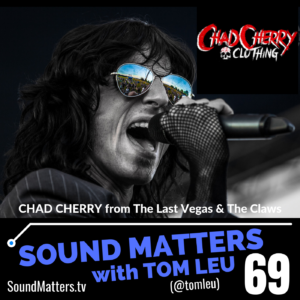 About the Host