July 23, 2022
Episode #127 – The Podcast: (also on Spotify, Apple Podcasts, Amazon Music, Google Podcasts, iHeartRadio, Stitcher, TuneIn Radio, & Spreaker)
Sound Matters episode #127 features Tom's conversation with vocalist Nathan James from the supergroup Iconic and the UK's Inglorious. Admittedly, I didn't know much about vocalist Nathan until diving into some research about him and listening to his previous records with Inglorious. Great singer with an ear for melody… this alone is worth checking him out. The new supergroup Iconic's debut album Second Skin also featuring Michael Sweet, Joel Hoekstra, Marco Mendoza, and Tommy Aldridge is a cut above many of these types of projects put together by Frontiers Records. With the caliber of talent assembled here, my expectations were high. They did not disappoint. This album rocks, and has the hooks present throughout to keep you coming back. I was sure what to expect with Nathan but found him to be charming and transparent. We dig into his old band, this new band, his approach to songwriting and his career, as well his what he feels is misunderstood about him as a person. Don't miss this one!
SOUND MATTERS Facebook Group: www.facebook.com/groups/soundmatters
Inside the Interview:
Tom's the 1st and #1
Second Skin title
Singing with Michael Sweet
Recording the album at a distance
Sweet's biggest compliment to Nathan
About the song "All I Need"
His evolution as a vocalist, performer, and songwriter
The need to buy a physical copy of the album
Tommy Aldridge and the video shoot
The funniest guy in the band
His view of the position he's in today
Wishes he was 20 yrs old in 1986
Other song Nathan co-wrote on the Iconic album
How this project came to exist
The moment he decided to become a musician for a career
Things he's learned about the music business so far
On being very deliberate and smart about career choices
Something people misunderstand about him
Advice he'd give his younger self
Connect with Nathan James:
Facebook: www.facebook.com/nathanjamesing
Twitter: www.twitter.com/thenathanjames
Instagram: www.instagram.com/thenathanjames
To sponsor the Sound Matters Show or to book Tom Leu for appearances, please email us at soundmattersshow@gmail.com with inquiries.
Click below to listen to a previous Sound Matters show episode: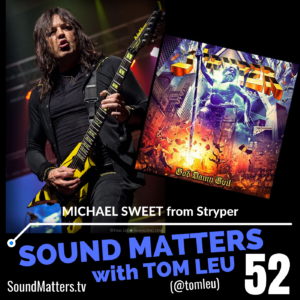 Stay tuned in…
About the Host