January 23, 2021
Episode #103 – The Podcast: (also on Spotify, Apple Podcasts, Amazon Music, Google Podcasts, iHeartRadio, Stitcher, TuneIn Radio, & Spreaker)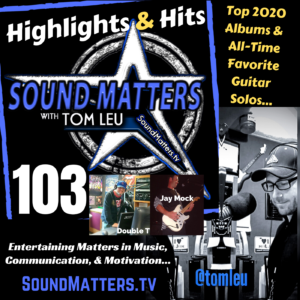 Sound Matters Show "Highlights & Hits" episode #103 runs down Terry "Double T" Turen from 96.7 The Eagle, show producer Spencer Jacobsen, and my lists of Top 2020 Albums. Special guest Jay Mock, guitarist from Suite Oblivion and I also share our eclectic picks for Favorite Guitar Solos of all time.
SOUND MATTERS Facebook Group: www.facebook.com/groups/soundmatters
Episode Sponsors:
If you, your business, brand, or organization is interested in sponsoring the Sound Matters Show, please email us at soundmatters@tomleu.com with inquiries.
Click below to listen to recent Sound Matters show episode: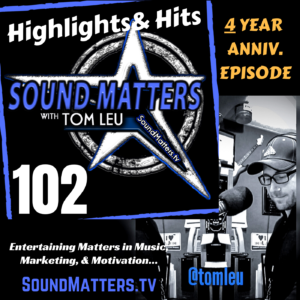 About the Host