August 07, 2020
Episode #099 – The Podcast:(also on Spotify, Apple Podcasts, Amazon Music, Google Podcasts, iHeartRadio, Stitcher, TuneIn Radio, & Spreaker)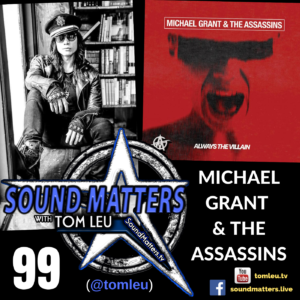 Sound Matters episode 099 features Tom's conversation with Michael Grant formerly of L.A. Guns and Endeverafter. Michael split from L.A. Guns in 2018 and never looked back. His first solo album (under Michael Grant & The Assassins) titled Always the Villian is simply incredible. This 11 song record contains killer songs, melodies, arrangements, production, and playing top to bottom. Read that again… it's rare. On top of it all, Michael is a super cool cat and a ton of fun to talk to. In this livestream episode (unedited video below), we discuss Michael's lifelong love of drumming (he drums on over half the tracks on this album, as well as handling all the bass, guitars, vocals, AND engineering duties), his perspective on leaving L.A. Guns, the impetus behind the title track, his writing and recording process, and his affinity for his influences, plus much more… this is one of my favorite conversations in the history of the show!
**Livestream VIDEO of this conversation here and on my YouTube channel (www.tomleu.tv):
Connect with Michael Grant:
Website: www.mgassassins.com
Facebook: www.facebook.com/michaelgrantassassins
Twitter: www.twitter.com/themichaelgrant (@themichaelgrant)
Instagram: www.instagram.com/michaelgrant (@michaelgrant)
If you, your business, brand, or organization is interested in advertising and/or sponsoring Sound Matters, please email us at soundmatters@tomleu.com with inquiries.
Until we meet again… Stay tuned-in…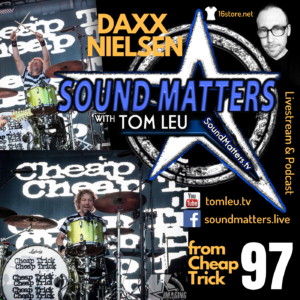 About the Host