March 09, 2019
Sound Matters episode #076 features Tom's conversation with Tony Harnell. Tony is an American rock singer, best known for his work with the Norwegian hard rock band, TNT. Tony has an exceptional voice and vocal range which spans over 4 octaves. Together, Harnell and guitarist Ronni Le Tekrø have co-written nine studio albums, and two "best of" compilations for TNT, during Tony's his two plus decades with the band. In 2015 Tony briefly fronted the hard rock band Skid Row, and since 2005, also fronts the terrific project, Starbreaker, formed with Magnus Karlson. Tony also writes and records as a solo artist. During this in-depth interview, Tony discusses Starbreaker's 3rd album, Dysphoria, reflections about his current status with TNT, his short tenure in Skid Row, new music forthcoming, and some personal insights on his current journey through recovery today.
Episode #076 – The Podcast: (also on Spotify, iTunes, Google, iHeartRadio, Stitcher, TuneIn, & Spreaker)
Inside the Interview:
03:46 – On the status of Tony and TNT…
14:13 – About the genesis of Starbreaker's great 3rd album, Dysphoria…
19:09 – On the lyrical content of Dysphoria…
23:23 – On the Lovekillers, and more new music forthcoming from Tony…
24:30 – On Tony's recovery journey, its affect on his music, and outlook today…
29:57 – What's on the horizon for Tony Harnell?
34:24 – Where to connect with Tony…
Connect with Tony Harnell:
Website: www.tonyharnell.com
Facebook: www.facebook.com/tonyharnellofficial
Twitter: www.twitter.com/tonyharnell
Instagram: www.instagram.com/tonyharnell
Episode Sponsors:
>> If you, your business, brand, or organization is interested in advertising and/or sponsoring the Sound Matters Show, please email us at soundmattersshow@gmail.com with inquiries.
Until we meet again… Stay tuned-in…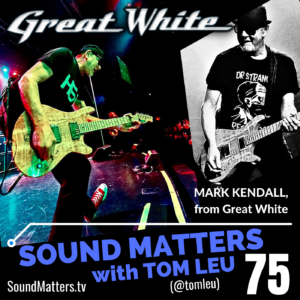 About the Host