October 13, 2018
Episode #068 – The Podcast: (also on Spotify, iTunes, iHeartRadio, Stitcher, TuneIn, & Spreaker)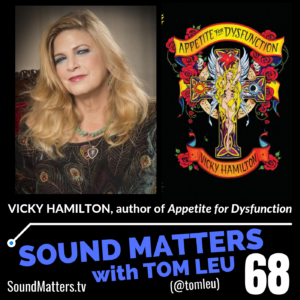 Sound Matters episode #068 features Tom's great conversation with music industry executive, Grammy winner, and author of the compelling memoir, Appetite for Dysfunction, Vicky Hamilton. Considered one of the most successful music executives in the industry, Vicky Hamilton has discovered, developed or managed the careers of Mötley Crüe, Stryper, Poison, Guns 'N' Roses, Faster Pussycat and many others (Lost Boys, Randy O). David Geffen hired her as A&R executive at Geffen Records. She has also worked with famed manager Elliot Roberts at Lookout Management/ Vapor Records, before moving to Capitol Records as A&R consultant. Vicky released country legend, June Carter Cash's album Press On, on her Small Hairy Dog label in 1999 which went on to win a Grammy in 2000. Currently, Vicky owns and operates Aesthetic V management and productions, which represents and develops bands, artist and special projects.
Inside the Interview:
02:00 – About the Tender Beats band…
02:35 – Vicky Hamilton introduction…
03:13 – On working with Country legend, June Carter Cash…
09:06 – On Appetite for Dysfunction, the book…
09:55 – Possible TV series…?
10:52 – On the book writing process and chronology…
14:58 – Tom, Bret Michaels, and tattoos…
17:41 – Vicky's take on Poison, Tom's take on "Lead Singers' Disease," Faster Pussycat, the Cathouse…
21:21 – On the Vicky Hamilton disease: "like to be right, and like to be first"…
24:35 – On the Tender Beats part 2…
27:44 – A day in the life as an A&R rep then, and the music/media biz today…
30:24 – On Vicky's long-term sobriety today…
35:31 – Get autographed, limited editions of the book…
37:35 – Vintage videos of Vicky on www.vickyhamilton.com…
38:48 – About Vicky's record label, Dark Spark Music…
Connect with Vicky Hamilton:
Website: www.vickyhamilton.com
Facebook: www.facebook.com/aestheticv
Twitter: www.twitter.com/aestheticv
Instagram: www.instagram.com/aestheticvicky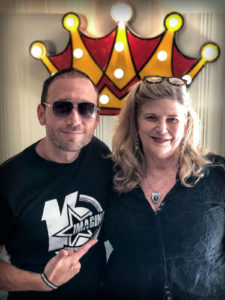 Episode Sponsors:
If you, your business, brand, or organization is interested in advertising and/or sponsoring the Sound Matters Show, please email us at soundmatters@tomleu.com with inquiries.
Until we meet again… Stay tuned-in…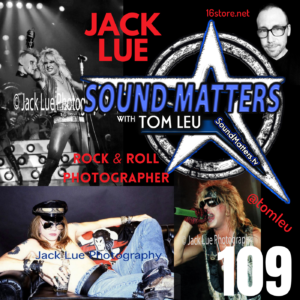 About the Host