July 14, 2018
Episode #062 – The Podcast: (also on Spotify, iTunes, iHeartRadio, Stitcher, TuneIn, & Spreaker)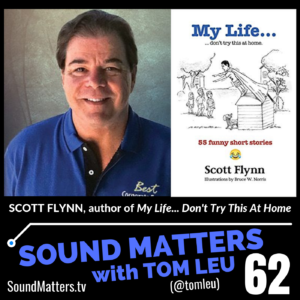 Sound Matters episode #062 features Tom's long form conversation with Scott Flynn, author of the memoir My Life… Don't Try This At Home – a collection of 55 funny short stories. Scott is a husband, stepdad, mentor, entrepreneur, artist, and philanthropist. Scott is also the founder and CEO of two international companies, Best Corporate Events LLC and the tech company SmartHunts LLC. In this long form interview, Tom and Scott get in-depth about his hilarious book, his businesses past and present, comedy, music, as well as his next writing projects, plus much more...
Conversation Keys:
00:40 – Amazon book reviews…
02:34 – About the book, it's genesis, writing, and editing…
10:55 – On being a big fan of comedy and the power of brevity…
13:37 – On Scott's businesses past and present…
19:20 – Musicians Scott encoutered "back in the day"…
22:46 – On the evolution of Scott's business endeavors…
25:43 – On spotting opportunities in business, and motivating vs. managing people…
31:00 – More on the book My Life… Don't Try This At Home…
36:39 – On success in business…
42:17 – Scott and Tom dicuss music, concerts, and favorite artists, etc…
1:03:53 – Quick Hitter final questions…
Connect with Scott Flynn:
Buy the book My Life… Don't Try This At Home by Scott Flynn:
Amazon: https://www.amazon.com/My-Life-Dont-This-Home/dp/1543922384/
Episode Sponsors:
>> If you, your business, brand, or organization is interested in sponsoring the Sound Matters Radio Show, please email us at soundmatters@tomleu.com with inquiries.
Until we meet again… Stay tuned-in…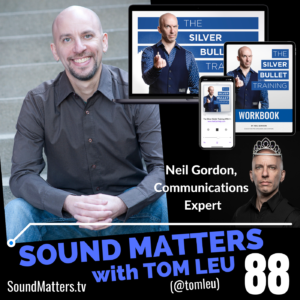 About the Host