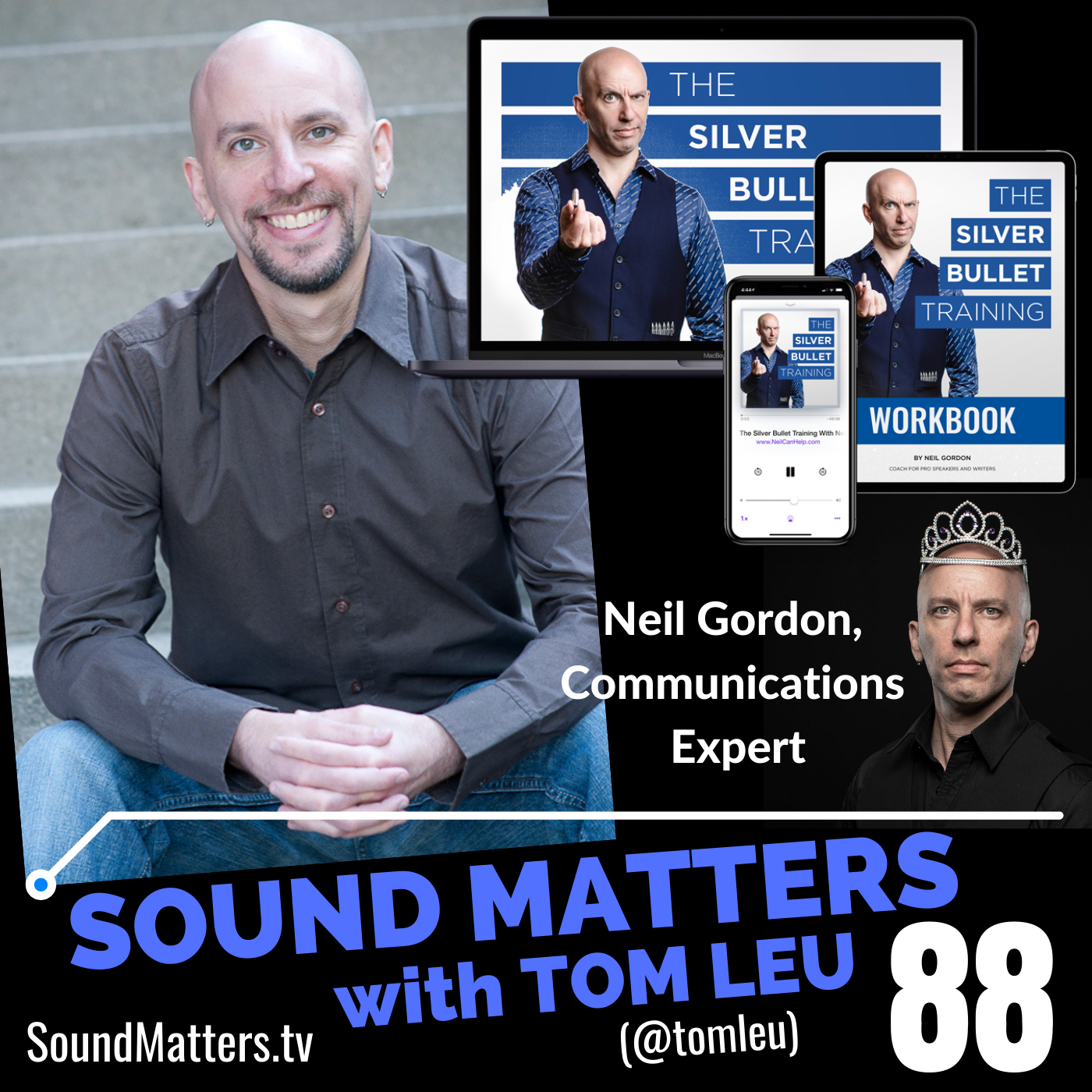 January 21, 2020
Sound Matters episode #088 features Tom's compelling conversation with communications expert and speaker coach, Neil Gordon. Neil's message is valuable far beyond those who work as professional speakers. Neil knows how to simply, yet effectively hit at the heart of the communication process that truly lands with audiences, regardless of messaging. Neil's core message stresses Why Content Is About Empowerment, Not Information… In this in-depth conversation, I ask Neil to take us through his professional career path and process to arrive at the place where he's able to influence and impact his clients so profoundly. No matter your specific profession, we're all in the communications business. So listen carefully to this fascinating, and very transparent discussion with one of today's leading communicators as we dig into some more marketing and motivation "sound matters"…
On This Episode:
Sound Matters Radio INTERVIEW guest: Communications expert and speaker coach, Neil Gordon
Episode #088 – The Podcast: (also on Spotify, iTunes, iHeartRadio, Stitcher, TuneIn, & Spreaker)
Conversation Keys:
– A mindset shiFt regarding entrepreneurship…
– The feedback that planted the seed to an altered path…
– The big aha moment…
– On getting clarity of purpose…
– How do change and pain co-exist?
– Figuring out what kind of pain people are in and how you can help…
– Do you have to be a speaker to coach speakers?
– Working through the down times…
– Assistance for authors…
– TED talks…?
– Does Neil have a "Neil" to coach and counsel him?
– The hardest part of "success"… whatever that means?
– Advice Neil would give his younger self today…
Connect with Neil Gordon:
Website: www.neilcanhelp.com
Facebook: www.facebook.com/neilcanhelp
Twitter: www.twitter.com/neilcanhelp (@neilcanhelp)
LinkedIn: www.linkedin.com/in/neilcanhelp (@neilcanhelp)
Episode Sponsors:
>> If you, your business, brand, or organization is interested in advertising and/or sponsoring the Sound Matters Show, please email us at soundmatters@tomleu.com with inquiries.
Until we meet again… Stay tuned-in…