October 28, 2017
Sound Matters episode #035 features Tom's interview with Frankie Muriel of KingoftheHill and Dr. Zhivegas. KOTH was/is the epitome high-energy fun, talent, and showmanship mixed into a rock and roll band. And as it should be, as Frankie and Tom discuss in this interview, along with his recollections and first hand accounts about what it was like to have a ringside seat to the wild ride that was rock and roll in the late 80's and early 90's, and much more… Show #035 concludes with Tom's signature Sound Matter Moment…
On This Episode:
Sound Matters Radio INTERVIEW Guest: Frankie Muriel of KingoftheHill and Dr. Zhivegas
Episode #035 – The Podcast: (also on Spotify, iTunes, iHeartRadio, Stitcher, TuneIn, & Spreaker)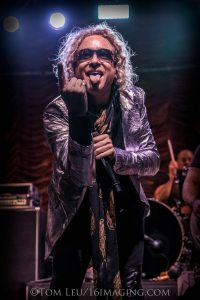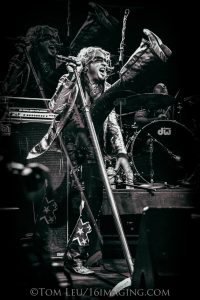 Inside the Interview:
04:30 – Broken Toyz from St. Louis, pre-KingoftheHill…
05:10 – On the impetus for the Nov 10, 2017 reunion show…
07:15 – On the lasting appeal of KingoftheHill then and now, and on music being fun and an escape…
09:36 – More/new KingoftheHill music going forward?
10:10 – On working with producer Howard Benson…
11:10 – On having a ring side seat to the heights of the music business in the 90's…
11:58 – On having a ring side seat to the transition as well…
15:17 – About the video for the song "I Do U"…
16:03 – Frankie as a front man…
17:02 – On Dr. Zhivegas…
18:54 – Dr. Zhivegas' Prince Tribute show…
20:56 – What did Prince mean to Frankie as an artist?
23:01 – On the KingoftheHill reunion set…
Connect with Frankie Muriel, KingoftheHill, & Dr. Zhivegas:
Website: www.drzhivegas.com
Facebook Page: www.facebook.com/kingofthehillstl
Facebook Page: www.facebook.com/frankie.drzhivegas
Instagram: www.instagram.com/frankiedrz
>> A 'Sound Matter Moment' >> www.soundmatters.tv/you-cant-always-get-what-you-want
Episode Sponsors:
>> If you, your business, brand, or organization is interested in sponsoring the Sound Matters Radio Show, please email us at soundmatters@tomleu.com with inquiries.
Until we meet again… Stay tuned-in…
About the Host