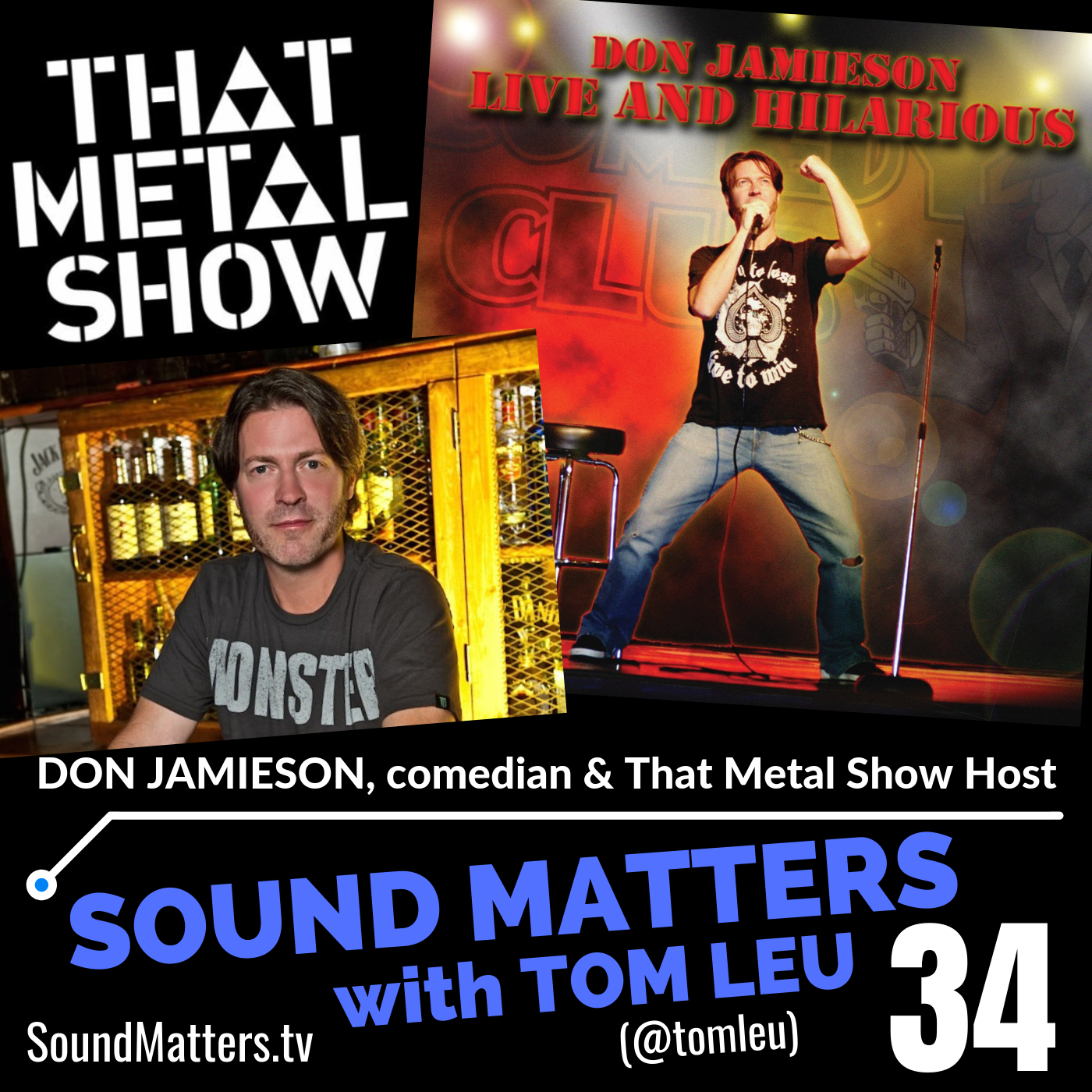 October 21, 2017
Sound Matters episode #034 features Tom's interview with comedian, author, and That Metal Show co-host, Don Jamieson. Don discusses his decades long career as the "rock 'n roll comedian," That Metal Show, the state of music today, winning an Emmy, writing for Lisa Lampanelli, opening for Andrew Dice Clay, and more… Show #034 concludes with Tom's signature Sound Matter Moment…
On This Episode:
INTERVIEW Guest: Don Jamieson, comedian and former co-host of That Metal Show
Episode #034 – The Podcast: (also on Spotify, iTunes, iHeartRadio, Stitcher, TuneIn, & Spreaker)
Inside the Interview:
03:17 – That Metal Show… what happened and what's next?
06:00 – On Netflix and the future of media and entertainment…
07:42 – Is rock music dead?
09:26 – On the changing models of marketing music…
11:42 – On Don's decades long comedy career…
13:36 – On writing for other big name comics including Lisa Lampanelli…
14:30 – On winning an Emmy Award for his work on Inside the NFL…
16:42 – On opening shows for Andrew Dice Clay…
18:42 – Don's comedy albums…
20:14 – Other opportunities and new projects coming up…
23:14 – What separates Don out as a comedian?
25:46 – That Metal Show… more rich or more famous?
26:34 – Top TMS moments?
29:28 – Current and new music Don's digging…?
31:34 – Any advice Don would give his younger self?
33:15 – Don and Tom on Cheap Trick…
Connect with Don Jamieson:
Website: www.donjamieson.com
Facebook Page: www.facebook.com/donjamiesonofficial
Twitter: www.twitter.com/realdonjamieson
>> A 'Sound Matter Moment' >> www.soundmatters.tv/someone-like-you
Episode Sponsors:
>> If you, your business, brand, or organization is interested in sponsoring the Sound Matters Radio Show, please email us at soundmatters@tomleu.com with inquiries.
Until we meet again… Stay tuned-in…