July 08, 2017
Episode #110 – The Podcast:(also on Spotify, Apple Podcasts, Amazon Music, Google Podcasts, iHeartRadio, Stitcher, TuneIn Radio, & Spreaker)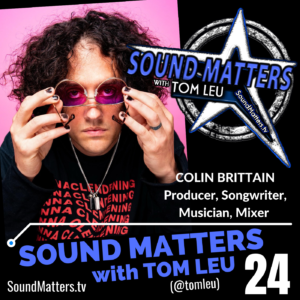 Episode #024 of the Sound Matters radio show features Tom's interview with record producer, songwriter, and mixer extraordinaire Colin Brittain… spotlighted artists/albums/tracks, a recap of this week in music history, and concludes with Tom's signature Sound Matter Moment.
On This Episode:
Sound Matters Spotlight: Papa Roach, Crooked Teeth, 2017 ("Periscope" ft. Skylar Grey); Styx, The Grand Illusion, 1977 ("The Grand Illusion")
INTERVIEW Guest: Producer/Songwriter/Mixer, COLIN BRITTAIN
Sound Matter Moment… "It Don't Come Easy"
Inside the Interview:
02:53 – On Colin's bio as "the ultimate genre blender…"
03:14 – On the making of the Papa Roach track "Periscope"…
04:14 – On the making of the One OK Rock track "Take What You Want"…
05:39 – An insider's look at Japan's One OK Rock…
07:48 – Behind the curtain of how relationships are forged with the artists Colin works with…
10:58 – On how decisions get made when producer and artists don't always agree…
12:26 – What aspiring artists misunderstand about the music business…?
14:48 – On Colin's background…
16:09 – A walk through a day in the life of producer/songwriter, Colin Brittain…
17:10 – On Colin's musical upbringing…
17:52 – One piece of advice he'd give to himself starting out…?
18:57 – One person Colin would like to talk to or interview…?
Connect with Colin Brittain:
Facebook Page: www.facebook.com/ColinBrittainCunningham
Twitter: www.twitter.com/colinbrittaincunningham
Instagram: www.instagram.com/docbrittain
A 'Sound Matter Moment' >> www.soundmatters.tv/it-dont-come-easy
Episode Sponsors:
If you, your business, or organization is interested in sponsoring the Sound Matters show, please email us at soundmatters@tomleu.com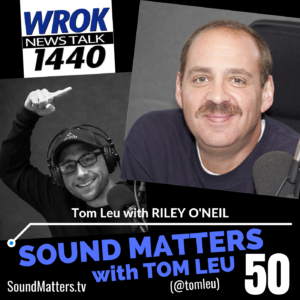 About the Host