→ TESTIMONIALS | CLIENTS | VIDEOS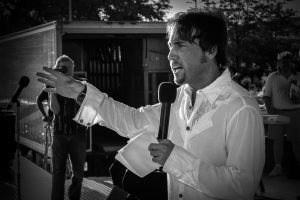 Tom speaks professionally about his three decades+ of experiences in rock & roll and media, from addiction to recovery and discovery, to finally, Escaping Suite Oblivion (memoir out in 2018). Tom's dynamic, multi-media presentations take you on a journey that's entertaining, enlightening, and empowering.
Tom Leu, MS/CPC is a professional speaker, author, and photographer from Rockford, IL. Tom's Lifestyle Initiative Training™ strategies and techniques teach how compelling communication skills married with provocative psychological insights produce relevant real-world results. To date, Tom has spoken to audiences in 40 cities in 20 different states across the country blending his passions for communications, psychology, and photography. Tom talks shiFt about Sound Matters to Overcome and Rise Above…
**Tom is available for keynote speaking engagements, seminars and emcee appearances at conferences, corporations, schools, retreats, youth groups, and entertainment-industry events.
Speaking Presentations: (customizable for your group, organization or event):
"ESCAPING SUITE OBLIVION" – An electric and empowering journey through three decades of rock & roll, radio and media, from addiction to recovery and finally discovery… Tom recounts his many encounters with the artists who provided the soundtrack to his life, shares lessons learned, and the ONE key principle that applies to everyone, and matters the most.
"SOUND MATTER MOMENTS" – Entertaining Matters in Music, Communication, & Motivation… and the Uncommon Keys to Success!

"THE PITS"

– What rock and roll concert photography taught me about music, business, communications, and life… and why you need to know!
"SLAVE TO GRIND" – Why '9 to 5' is more of a mind-set than a set schedule to mind. How I kicked it to the curb, and so can you.
"THAT SMELL" – Addiction stinks and applies to many different types of vices, devices, and distractions. Learn how to overcome and rise above from that which ails you.
"SEEING THINGS" – Literally through Lenses; Figuratively despite Filters. A Photographic Journey Showing How Perspectives Shape Outcomes Personally and Professionally.
Speaker Bio:

Tom Leu, M.S. is a Member of the National Speakers Association, a Certified Professional Coach (CPC), and Certified Trainer for the Body Language Institute. Tom is also an active professional photographer, radio host, and music journalist working with some of the biggest names in music. Tom was previously the Academic Dean at Rockford Career College in Rockford, IL, and worked in higher education for over a decade.
Researching from a social psychological perspective, Tom created a new discipline of study called Communichology™ in which he presents from the unique vantage point where communication skills and human psychology collide. Tom has degrees in Psychology and Sociology and has trained with the world's leading personal development organizations including the Tony Robbins and Steven Covey companies. Tom is a sought-after speaker on topics pertaining to advanced communications skills, recovery, and emotional and social intelligences. Tom's professional career includes nearly three decades of experience as a college administrator & instructor, keynote speaker, corporate trainer & seminar leader, radio & television host, author, & photographer.
*Speaking fees vary based upon length of the presentation, location of event and other factors. Typically, business travel and expenses are additional costs above the speaking fee.**Customizable keynotes and breakout sessions are available for your event's particular requirements.
Please EMAIL Tom with specific inquiries.