May 07, 2022
Episode #123 – The Podcast: (also on Spotify, Apple Podcasts, Amazon Music, Google Podcasts, & Spreaker)
Mark Kendall, founding guitarist of the multi-platinum Los Angeles-based Great White, goes deep into the creation process of many classic Great White hits and album tracks spanning the band's catalog.
**For readers: here's the print version of this interview as featured exclusively on SONGFACTS.com >> https://www.songfacts.com/blog/interviews/mark-kendall-of-great-white
Sound Matters episode #123 features Tom's 3rd in-depth conversation with Mark Kendall from the multi-platinum band Great White. In this episode, I debut a new segment called "Song Matters" where we specifically dig into an artist's recollections and stories on the songwriting and recording of many of the band's classic tracks. Mark goes deep into many tracks from Great White's back catalog sharing insights about the making of the music through the years. The "Song Matters" segments are for anyone who is interested in the creation process, and how the music ultimately gets written, recorded, produced, and released.
SOUND MATTERS Facebook Group: www.facebook.com/groups/soundmatters
Inside the "Song Matters" Interview:
Overview of how Great White and Mark wrote songs in the early days

On reasons for recording fuller demos before presenting to band

"Congo Square"

Hendrix and Bowie's approach to song ideas

Not the Mark Kendall show… but a band of dudes with opinions

Collaborative or competitive in Great White with respect to songwriting credits

"Mista Bone"

"Rock Me" and how some of the greats change typical songwriting approaches

When others in the band hear and help with your ideas

Tom Petty and Jackson Browne… masters of their craft

When to keep working on a song or move on

Collaborating with bandmate Michael Lardie and writing solo sections

Writing in different song structure styles

Getting inspiration from other sources and Richie Blackmore's lifts, etc.

"Hold On" from the 1st album and "No Better Than Hell"

"Shot In the Dark" from 2nd album (and Alan Niven's contributions)

Jack Russell and writing lyrics

Alan Niven (like the 6th Great White member) – strong with lyrics and the business side

"Waiting For Love" from Shot In the Dark (w/Stephan Jerry Lynn Williams)

Nervous when recording and working with Michael Wagner

The Once Bitten record… did they sense it was gonna be big

"Rock Me" and hearing it back for the first time

On "Rock Me" and the workaround for the 7 min. length

"Save Your Love"

"Lady Red Light"

Michael Wagner – no effects records

"Once Bitten, Twice Shy" (Ian Hunter)

"The Angel Song" with Dio charity-inspired lyric and video

"Call It Rock and Roll"

"Afterglow" (Steve Marriott)

On Steve Marriott and (Jack Russell) singing on Herman Rarebell's solo album

"Love Is A Lie"

People online teaching guitar parts for Great White songs

Working with Jack Blades (and Don Dokken) on the Can't Get There from Here album…

Working with Myron Grombaucher (from Pat Benatar band)

Recording guitars and drums for the Can't Get There from Here album

Really listening to others ideas before shooting them down in favor of your idea

"This Is the Life" with Terry Illous (from XYZ) and Mark's grandson on the pick slide)

Creating atmospheres and not worrying about duplicating live

Underrated Great White songs: "Hold On" and "Street Killer" from the first album

Songs that are selected as singles vs. those that are B-sides

Well-constructed songs with memorable guitar parts… always been the goal

Mark wanted to be like Carlos Santana

Jimmy Page's guitar solo on "Stairway to Heaven"

Why Great White songs are memorable

Dynamics in music are the most important thing

On shredding with respect to songwriting and guitar playing

On continuing to get better, be inspired, and collaborating as a songwriter and music fan

Mark's longtime friend who is a trusted ear

The several months waiting after finishing a record

Mark's favorites of the 13 Great White videos

Thoughts on using technology today (for video and audio)

Mark's solo work
Connect with Mark Kendall & Great White:
Website: www.officialgreatwhite.com
Facebook: www.facebook.com/GreatWhiteOfficial
Facebook: www.facebook.com/MarkSKendall
Twitter: www.twitter.com/MarkKendall_GW
Instagram: www.instagram.com/mr._greatwhite (@mr._greatwhite)
To sponsor the Sound Matters Show or to book Tom Leu for appearances, please email us at soundmattersshow@gmail.com with inquiries.
Click below to listen to a previous Sound Matters show episode: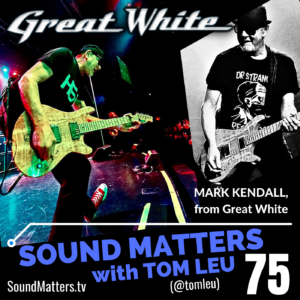 Stay tuned in…
About the Host