October 20, 2021
Episode #114 – The Podcast: (also on Spotify, Apple Podcasts, Amazon Music, Google Podcasts, iHeartRadio, Stitcher, TuneIn Radio, & Spreaker)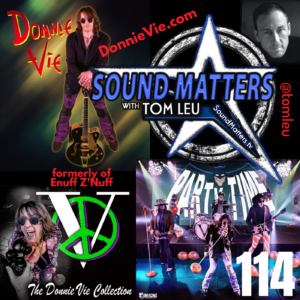 Sound Matters episode 114 features Tom's 3rd conversation with Donnie Vie formerly of Enuff Z'Nuff. This uncensored conversation aired live on WROK radio and is Donnie at his best talking about his latest single and video (which also features Chip Z'nuff) for "Party Time" – both available on the new Donnie Vie Collection bundle. This collection includes a USB flash drive with 7 GB of content including all of Donnie's 5 solo albums, a demos and rarities album, plus VIP access at all future Donnie Vie solo shows for life with an included laminate, and more. Donnie talks about the writing of "Party Time" and the making of the video, the future of the music business as he sees it, his collaboration on a song with Howard Stern, and more. Donnie is sounding as great as ever and this conversation is the best one yet. Don't miss it!
SOUND MATTERS Facebook Group: www.facebook.com/groups/soundmatters
Connect with Donnie Vie:
Website: www.donnievie.com
Facebook: www.facebook.com/DonnieVieOfficial/
Twitter: www.twitter.com/kingofpowerpop (@kingofpowerpop)
Instagram: www.instagram.com/kingofpowerpop (@kingofpowerpop)
To sponsor the Sound Matters Show or to book Tom Leu for appearances, please email us at soundmattersshow@gmail.com with inquiries.
Click below to listen to recent Sound Matters show episode: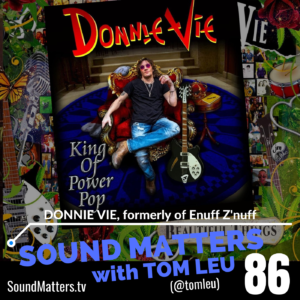 About the Host