July 29, 2021
Episode #112 – The Podcast: (also on Spotify, Apple Podcasts, Amazon Music, Google Podcasts, iHeartRadio, Stitcher, TuneIn Radio, & Spreaker)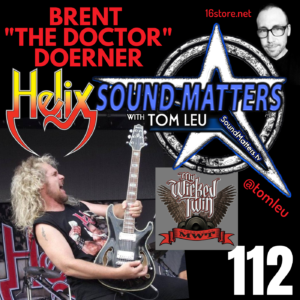 Brent "The Doctor" Doerner is a founding member and guitarist of the great Canadian rock band Helix. Brent spent over 18 years with the platinum selling band and appears on all of their classic albums from the 80's and 90's. Brent is a passionate songwriter, and today, along with his twin brother Brian (also a Helix alum) on drums, leads the band My Wicked Twin based out of Kitchener Ontario. This was a fun and insightful conversation with Brent going deep about Helix's humble beginnings, coming up in the clubs in the 70's, auditioning Michael J. Fox, getting signed to Capital records, tour stories from Helix's heydays, meeting many of his hero's on the road, his relationship with Helix frontman, Brian Vollmer, his approach to songwriting today, and much more…
Inside the Interview:
Genesis of the nickname "The Doctor"?

Songwriting in Helix and the "hair metal" formula pushed by Capital Records

Gold and Platinum albums

Club days gigging in Canada

Joining the "Helix Field Band"

Learning how to write original music

Tour stories with Black Sabbath, Kiss, Dio, Heart, etc.

Auditioning Michael J. Fox for Helix

Recording the No Rest for the Wicked album

Approach to guitar solos

The moments when Helix records first went Gold and Platinum

Almost dying on tour in Trinidad

"Rock You" video w/cameo from former porn star Traci Lords

"Mailbox money" and ongoing music royalties

My Wicked Twin (with Brent's twin brother and drummer, Brian Doerner)

Approach to recording and writing music and lyrics today
Connect with Brent "The Doctor" Doerner:
Facebook: www.facebook.com/reddfilm
Facebook: www.facebook.com/groups/mywickedtwin
To sponsor the Sound Matters Show or to book Tom Leu for appearances, please email us at soundmattersshow@gmail.com with inquiries.
Click below to listen to recent Sound Matters show episode: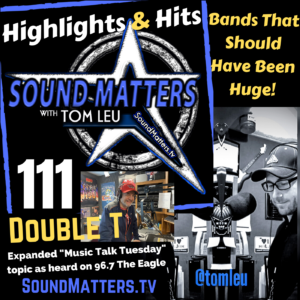 About the Host