July 20, 2020
Episode #097 – The Podcast: (also on Spotify, Apple Podcasts, Google, iHeartRadio, Stitcher, & Spreaker)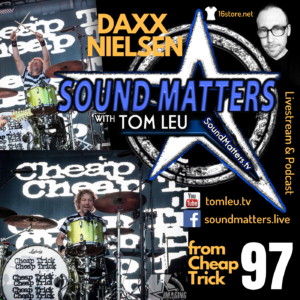 Sound Matters episode 097 features my conversation with Daxx Nielsen from Cheap Trick. For over a decade, Daxx has been the drummer for the influential and legendary Rock 'n Roll Hall of Fame band hailing from my hometown of Rockford, IL. Daxx and I have known each other since our days gigging in regional bands in the Midwest. Daxx has been a touring and recording musician for over 20 years and has worked with some of the greats in music. In this conversation we discuss the effects of the pandemic on him, his early years playing in bands with his brother Miles, touring and recording with artists such as Brandi Carlisle, Dick Dale, Billy Corgan, Eddie Vedder, and Enuff Z'Nuff among others. Daxx also weighs-in on Cheap Trick's philosophy to continue to record new albums, favorite places to tour, meeting Jimmy Page from Led Zeppelin in Japan, his advice to up-and-coming musicians, The Nielsen Trust, and what the future may hold for him post-Cheap Trick someday… Daxx has always been an exceptionally talented drummer and a super humble guy to boot. Really enjoyed this conversation from another great musician to come out of Rockford, IL.
**Livestream VIDEO of this conversation here and on my YouTube channel (www.tomleu.tv) >>
Connect with Daxx Nielsen:
Website: www.daxxnielsen.com
Facebook: www.facebook.com/daxxnielsenmusicpage
Instagram: www.instagram.com/cheaptrickdaxx
If you, your business, brand, or organization is interested in advertising and/or sponsoring Sound Matters, please email us at soundmatters@tomleu.com with inquiries.
Until we meet again… Stay tuned-in…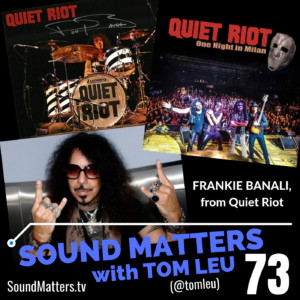 About the Host