February 13, 2020
Sound Matters episode 089 features Tom's conversation with guitarist Reb Beach best known for his work with Winger, Whitesnake, and now the supergroup Black Swan. Reb's three decade plus career is as storied as anyone's and includes run-in's with some of music's royalty including the Bee Gee's, Roger Daltry of The Who, and Bob Dylan among others. In this fun and informative conversation, Tom gets Reb to share stories about his early days doing sessions with some of the greats, to working with Winger and Whitesnake, past and present, to his latest release with Black Swan which includes vocalist Robin McCauley (MSG), bassist and producer, Jeff Pilson (Dokken/Foreigner), and drummer Matt Starr. Reb is one cool cat who loves what he does, and loves recounting stories from his impressive rock & roll career.
On This Episode:
Sound Matters Radio INTERVIEW guest: Reb Beach of Winger, Whitesnake, and Black Swan.
Episode #089 – The Podcast: (also on Spotify, iTunes, Google, iHeartRadio, Stitcher, TuneIn, & Spreaker)
Connect with Reb Beach:
Website: www.rebbeach.com
Facebook: www.facebook.com/rebbeach
Twitter: www.twitter.com/realrebbeach (@realrebbeach
Instagram: www.instagram.com/rebbeachofficial (@rebbeachofficial)
>> If you, your business, brand, or organization is interested in advertising and/or sponsoring Sound Matters, please email us at soundmattersshow@gmail.com with inquiries.
Until we meet again… Stay tuned-in…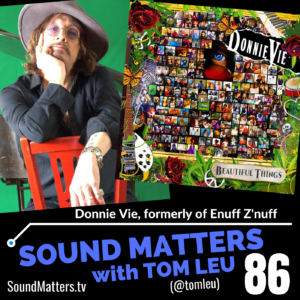 About the Host