January 25, 2019
Episode #73 – The Podcast: (also on Spotify, Apple Podcasts, Amazon Music, Google Podcasts, iHeartRadio, Stitcher, TuneIn Radio, & Spreaker)
Sound Matters episode #073 features Tom's conversation with Quiet Riot drummer, Frankie Banali. Frankie is best known for his work with multi-platinum heavy metal band Quiet Riot and is the only member remaining from the band's classic lineup. He has been the band's manager since 1994. Frankie has played drums for the band W.A.S.P., as well as with Billy Idol, and on numerous other albums as a session drummer. In this candid conversation, Tom and Frankie get into some great backstories about Kevin Dubrow, Randy Rhoads, in the studio with Quiet Riot, recording with Blackie Lawless and W.A.S.P. and much more…
SOUND MATTERS Facebook Group: www.facebook.com/groups/soundmatters
Inside the Interview:
01:45 – On the Quiet Riot and Rockford, IL 1983 historic connection…
03:31 – About the Quiet Riot live album, One Night in Milan on Frontiers
08:08 – On the addition of "Thunderbird" on the new live album
11:03 – A classic Quiet Riot tale from the studio back in the day…
13:42 – On Frankie and Kevin DuBrow's friendship and relationship…
15:45 – On the QR documentary and the brutal honesty within…
19:41 – On vocalist James Durbin…
20:49 – Frankie's recollections on recording the W.A.S.P. Headless Children album
24:09 – On Frankie's extensive session work as drummer
24:48 – What advice would Frankie give his younger self coming up?
Connect with Quiet Riot:
Website: www.quietriot.band
Facebook: www.facebook.com/quietriot
Twitter: www.twitter.com/quietriot
Instagram: www.instagram.com/quietriotofficial
To sponsor the Sound Matters Show or to book Tom Leu for appearances, please email us at soundmattersshow@gmail.com with inquiries.
Click below to listen to a previous Sound Matters show episode: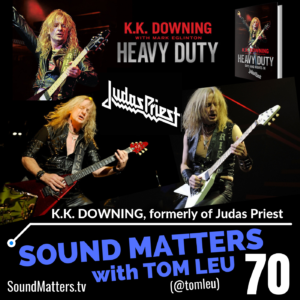 About the Host