July 07, 2018
Sound Matters "Highlights & Hits" episode #061 features the debut of the show's engineer, producer, and co-host, Christian Leu's new weekly segment… this one about the particulars of the popular World Cup series. Tom talks to professional speaker, Jeanne Robertson again about her comedy competition. And returning to Sound Matters is Suite Oblivion frontman, Mitch Brechon debating with Tom about "Bands You Hate, but Everyone Else Loves…" lots 'o fun.
Segments & Guests:
06:05-20:42 – Christian Leu with a discussion about the World Cup
21:50-30:38 – Jeanne Robertson's Comedy Competition: www.jeannerobertson.com
31:12-51:20 – Mitch Brechon & Tom debate bands you hate, but everyone else loves…
Episode #061 – The Podcast: (also on Spotify, iTunes, iHeartRadio, Stitcher, TuneIn, & Spreaker)
Episode Sponsors:
>> If you, your business, brand, or organization is interested in sponsoring the Sound Matters Radio Show, please email us at soundmatters@tomleu.com with inquiries.
Until we meet again… Stay tuned-in…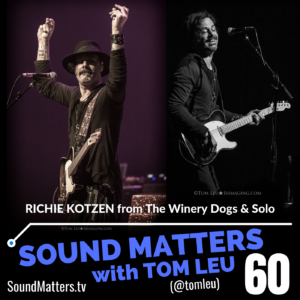 About the Host