March 31, 2018
Episode #050 –The Podcast: (also on Spotify, Apple Podcasts, Amazon Music, Google Podcasts, iHeartRadio, Stitcher, TuneIn Radio, & Spreaker)
Sound Matters episode #050 features Tom's commentary about the show's milestone, 50th episode. Tom reflects back on the show's evolution since its debut in January of 2017, and expansion moving into 2018 and beyond. Tom is joined by good friend and longtime Rockford radio host on Newstalk 1440 WROK, Riley O'Neil for an insightful look at show's inception, unique format that blends the best of music, communication, and motivation topics and content. The Sound Matters Show wouldn't exist without Riley's encouragement and endorsement, and I'm forever thankful to him for believing in me and my ideas for this show.
Connect with Riley O'Neil:
Twitter: www.twitter.com/wrok_riley (@wrok_riley)
Connect with TOM LEU:
Websites: www.SoundMatters.tv | www.TomLeu.com | www.16Imaging.com
Official Facebook Page: www.facebook.com/tomleu2
Twitter: www.twitter.com/tomleu (@tomleu)
Instagram: www.instagram.com/tomleu (@tomleu)
YouTube: www.youtube.com/tomleu
To sponsor the Sound Matters Show or to book Tom Leu for appearances, please email us at soundmattersshow@gmail.com with inquiries.
Click below to listen to recent Sound Matters show episode: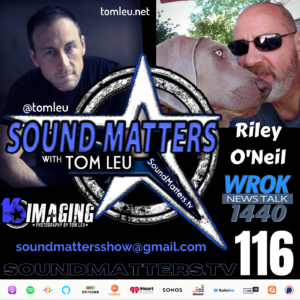 About the Host