February 10, 2018
Episode #045 – The Podcast: (also on Spotify, Apple Podcasts, Amazon Music, Google Podcasts, iHeartRadio, Stitcher, TuneIn Radio, & Spreaker)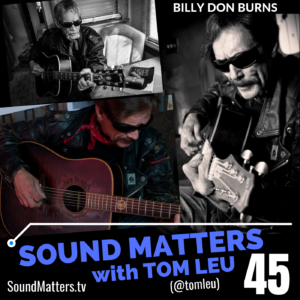 Sound Matters show #045 features Tom's intriguing and revealing conversation with the original "outlaw," legendary Nashville singer/songwriter Billy Don Burns. Billy Don's songs have been recorded by Willie Nelson, Sammy Kershaw, and Mel Tillis, and he's known and worked with the likes of Merle Haggard, Johnny Paycheck, Waylon and Shooter Jennings and Johnny Cash among many others. Both older and newer Country artists consider Billy Don as one of the greats as evidenced by his numerous songs appearing on multiple albums spanning nearly 50 years…
SOUND MATTERS Facebook Group: www.facebook.com/groups/soundmatters
Inside the Interview:
03:31 What keeps Billy going after nearly 50 years in the music business?
05:03 On Billy's reactions to the universal praise he gets from other musicians…
06:42 On knocking Johnny Cash out of the #1 chart position…
08:10 Has Billy Don's humilty hurt his career?
08:35 On playing the Grand Ole Opry…
09:35 On Billy Don's recent back catalog…
11:30 Where does Billy's inspiration for songs come from…?
12:08 Billy's take on today's current Country music, and meeting Kenny Chesney…
13:19 Billy Don's view of success today vs. when he was starting out…
14:35 On younger artists cutting Billy's songs currently…
15:25 Updates on a documentary and new music in the works…
16:53 Advice Billy gives to up-and-coming artists…
17:24 On what sets Billy and his music apart?
Connect with Billy Don Burns:
Facebook: www.facebook.com/BillyDonBurnsMusic
>> If you, your business, brand, or organization is interested in advertising and/or sponsoring the Sound Matters Show, please email us at soundmattersshow@gmail.com with inquiries.
Until we meet again… Stay tuned-in…
About the Host