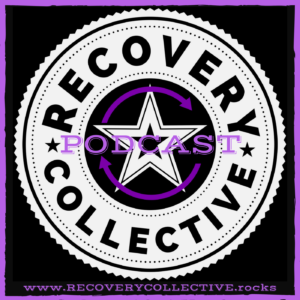 Join me on the RECOVERY COLLECTIVE series where I bring together and connect a collective of creatives, experts, advocates, movers and shiFters who DARE to get up, stand up, and get down to the business at hand… which is to lend a helping hand to those still struggling with self-defeating behaviors by letting your voice be heard… as we, together… talk shiFt™ about RECOVERY in its many forms, and most importantly… share insights and SOLUTIONS to overcome and rise above what I call the AV/DC's >> the Addictions, Vices, Devices, Distractions, or Compulsions that may ail you or someone you know. More on the Recovery Collective Perspectives/Philosophies HERE(if you're down, let's get going).
"I believe that if we're being honest, (and long term sobriety cannot exist without it), we all are in "recovery" from some thing(s). For me, alcohol was my go-to vice, although I used almost all of them in various quantities, at various points, for nearly 20 years. December 17, 2002 is my continuous recovery/sobriety date, one day at a time." – @tomleu
Recovery Collective Episodes:
Book Tom Leu, MS/CPC for speaking engagements, media appearances, or as a guest on your radio show or podcast by emailing: tom@tomleu.com or sending a DM on Instagram @tomleu
Tom's Podcast Appearances:
> My appearance on Podcast Recovery:
> My appearance on the The Journey podcast:
> My appearance on the Recovery Rockstars podcast:
> My appearance on the Open Heart Collective webcast discussing mental health and recovery:
> My appearance on the Empower_Good podcast discussing recovery, media, & more:
**********
What guests are saying about the Recovery Collective podcast:
"I've been on what some have referred to as a "podcast/radio tour" as of late to promote my memoir so I know podcasts and radio shows. Tom is infinitely prepared, professional, smart and friendly. He has a terrific sense of humor, enjoys what he does, really delves into the projects/backgrounds of his guests and all of these culminate in a terrific interview that goes deep but also includes laughter. As a guest, you feel safe in his hands as he guides you through a conversation with questions that are personally tailored to your story/project. I was incredibly impressed by his little soundbite of my recent interview on his IG post. Maybe I'm easy but Tom has a life long fan and guest in me."
– Amy Dresner, author of My Fair Junkie-A Memoir of Getting Dirty and Staying Clean
"It was such a pleasure being a guest on the Recovery_Collective Radio Show. Tom Leu has an incredible skill as a radio host in being able to create an easy flow of conversation for both the listeners and guest speakers to enjoy. The questions asked during the show make for a purposeful discussion and I believe that the listeners are able to take away something of value from each discussion. I had the honor of meeting Tom before this radio experience and it is obvious of how passionate he is about helping others in life and in recovery. I would highly recommend the Recovery_Collective radio show for anyone who is looking to add value to their lives."

– Austin Cooper, Founder of Sober Evolution
"If the Recovery Collective were merely a platform for a range of recovery stories, that would be enough. Under Tom Leu's passionate, skillful direction it's more like a next-level Master Class in solution-focused living. Tom's an expert on recovery who remains curious and engaged, with a passion for the topic that's infectious and inspiring. My story has multiple (seemingly) disparate threads. Tom sees the bigger picture without losing its finer details. His casual approach and insightful questions made for a stimulating bank-and-forth, with a sense of authentic attunement. Some radio interviewers have an interrogation-style approach, whereas being on the Recovery Collective felt like co-creative brainstorming. Our interview was, for me, both fun and profoundly stirring. The result is a show that is powerful and polished. Raw, real and intimate, yet educative and instructive."

– Kristin Casey, Author of Rock Monster: My Life with Joe Walsh
"Recovery Collective is simply amazing! Tom Leu breaks the stigma around addiction, and the misperceptions around sobriety and recovery. Tom is always well-prepared, has a great knowledge base, and is always curious to learn more. Tom doesn't conduct interviews, but rather has conversations with guests about the silence and stigma surrounding suicide, mental illness, addiction and recovery. As an addiction counselor and licensed clinical social worker for the past 26 years with 10 addiction counselors working for me, Recovery Collective has been an amazing resource for us and our clients. Tom brings a message of hope, healing and fun to recovery from addiction of all types."

– Kevin Polky LCSW/CADC, Founder and Executive Director of KP Counseling and Shatter Our Silence
"Tom is an insightful and passionate host. I love the topics and guests he has on the show. Tom does his research on his guests! He asks the most intriguing questions I've ever been asked by a host. It's apparent he knew about my work and I truly appreciated that. Tom's passion is infectious. It's an absolute pleasure to know Tom Leu and to be able to share the mic with one of the best recovery warriors there is."

– Lara Frazier, Writer and Speaker at LaraFrazier.com
"I recently was on the Recovery Collective show and WOW, my friend Tom's energy and demeanor are contagious! He really cares about his guest, his subject matter and more importantly YOU, the one who is still suffering. Tom talks abut his mission, which to help those to overcome and rise above the AV/DC's: the Addictions, Vices, Devices, Distractions, or Compulsions that may ail you or someone you know. In short, Tom's enthusiasm and attitude will have you listening again and again. I am so fortunate to call him my friend."
– Stewart Michaelson, Founder of Join The Nation Network
"Tom Leu brought his experience as both a professional and a person in long term recovery to the task of teasing out what is important in my work for his listeners. He did both them and me a great service in that. His research was impeccable, and his passion is evident. It was a real pleasure to be interviewed by Tom on Recovery Collective. I'd interview with Tom any time. Highly recommended."

– Dr. Howard Wetsman MD, Addictionologist and author at Ending Addiction
"Tom is a pro–he works to ensure his guests are comfortable, prepared and enthused when they come as a guest on his podcast. He's super knowledgeable about the realm of addiction and recovery and understands his audience very well, and this showed with his poignant and thoughtful questions. He made sure nothing was left out–and nothing was left out because he's uber skilled at framing questions and diving deep into topics. He also did a lot of research before our interview to provide context to his listeners and help inform our conversation. It was a true pleasure to chat with him."

– Katie Lain Goyatton, Director of Community Engagement, Ria Health. YouTube Channel at >> Embody Daily
"It was great to be on Tom Leu's podcasts! Tom does his homework and preparation which made it a great experience to be on the show! When a journalist or host in this case does their research, it makes the show interesting and flow well. Tom is a complete professional in that regard! I'm a huge fan of getting the word out on recovery in which Tom's podcast does a wonderful job!!"
– Mark Kendall, lead guitarist for Great White >> OfficialGreatWhite
"It was a real pleasure talking to Tom. Definitely the most in-depth, important, and deeply honest interview I've ever done. And I've done a lot! I'd compare it to a rock n roll therapy session. Tom's easy going personable style puts you at ease, you feel like you're talking to an old friend. I'd recommend Tom's show to any and all artists if you want to do an interview with someone who doesn't ask the same old questions and does his homework."


– Tony Harnell, lead singer for TNT & Starbreaker >> www.tonyharnell.com
"OMG!!! Tom is AMAZING! I have been on a lot of podcasts, especially with my new book. And I have to say, that Recovery Collective is by far the most organized yet free-flowing podcast I have ever been on! Tom is so easy to talk with. And he periodically reminds the listeners who he is interviewing; which I love! There was no down time or moments of uncomfortable nothingness. He was prepared to pack a powerful punch of a message from the beginning to the end! I'd be honored to be on his show anytime!"

"Tom is very knowledgeable when it comes to recovery. He's relatable because he's lived it. When others are stubborn about the process of getting sober, Tom understands that everyone is different, so he's open-minded to alternative methods. He has the passion to help people. I really enjoyed our conversation on Recovery Collective. Moments like that help me to keep my mind on the right path."

***************************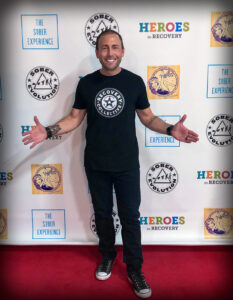 Hosted by a media veteran, professional speaker, author, and photographer, RECOVERY COLLECTIVE is a Sound Matters podcast production series based in the Clearwater/Tampa, FL area.
Tom Leu's recovery writings are >> HERE
Email us at tom@tomleu.com with inquiries.
Follow Tom Leu on Instagram at www.instagram.com/tomleu (@tomleu)
Pick up a Recovery Collective T-shirt to help support this effort >> HERE
**************************
**Note: content here is not affiliated with any other specific recovery organization, treatment facility, or 12 Step group. My opinions and experiences are my own. My position is if it truly works for you, then it works. Period. The destination is more important, and more valuable than the vehicle taken to get there.
Stay tuned-in…