Musician's Corner®
>> Professional Development for "Next-Generation" Rock Stars!
This is Psychology for Success in Music… Effective, real-world solutions for beginning bands and independent musicians (and their supporters) to stop sucking and start succeeding!
Writings >> HERE.
The Musician's Corner® is a registered trademark and a nationally syndicated series of columns, articles and radio segments that have appeared and aired on hundreds of music websites, in print publications, and on broadcast and internet radio stations since 2001. Tom Leu's Musician's Corner® books, articles & audio books teach players and parents alike how to market and sell their music more effectively, more often by exposing the often-overlooked secrets and strategies that independent musicians NEED to know for success in music! No fluff, no filler directly from Tom's 25+ years as a musician himself. Think you can handle it?
So who is this information for?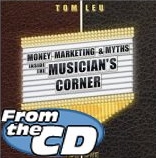 1) Independent bands & artists who aren't too proud to realize they don't know it all or they'd be farther along by now!
2) Parents & supporters of independent artists who want to help them succeed by shortening the learning curve for success in music!
If you are a parent or enthusiastic supporter of the next "American Idol" or "Rock Star," then do everyone a favor by learning the necessary marketing and promotion strategies to help take them from obscurity to celebrity with the Musician's Corner® books!
If you're serious, it's time to get serious… the challenge is real!
Check out the Musician's Corner® Podcast:
"Money, Marketing, & Myths Inside the Musician's Corner is a highly informative Book/CD set that should be an indispensable part of any serious musician or artist's library. As I say on my radio show: "There are no secrets, only that which you don't know, and when you know it – it's no longer a secret." The Musician's Corner resources will help reveal the "secrets."
– Samm Brown, Award-winning songwriter, producer, radio show host, and arranger for acts including Michael Jackson, The Supremes, The Miracles, & New Edition and other Motown artists. Samm is the recipient of many RIAA gold & platinum and ASCAP awards.
"Tom Leu's success techniques and positive (but realistic) approach can be applied to a lot more than just the business of creating and marketing sound. Unlike many resources of this type, it's also an entertaining reading experience. Leu speaks in terms that can be understood by virtually anyone, and speaks with a passion that's downright contagious!"
– Gary Hill, author and music journalist
---
"The Musician's Corner®" and "New Band Tips" articles reprint rights by permission only. If you like what you read, you may reprint and/or republish these writings along with an approved *bio blurb & photo* for each article used. Email us to include articles on your website or in your print publication.
For more information please visit: