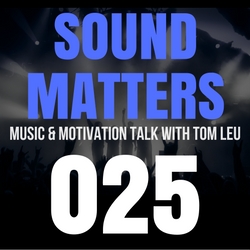 July 15, 2017
Episode #025 of the Sound Matters radio show features Tom's interview with Armed Vision guitarist Jay Samp, vocalist Rex Scott, and drummer Lance Porter deep diving the band's storied history, spotlighted artists/albums/tracks, a recap of this week in music history, and concludes with Tom's signature Sound Matter Moment.
On This Episode:
Get Sound Matters Radio interview podcasts on >> iTunes, iHeartRadio, & Spreaker and full show streams on >> Mixcloud
Sound Matters Spotlight: Def Leppard, High n' Dry, 1981 ("Another Hit and Run")
INTERVIEW Guest: Jay Samp, Rex Scott, & Lance Porter from ARMED VISION
Sound Matter Moment… "Gettin' Better"
Links:
Armed Vision Facebook Page: www.facebook.com/armedvision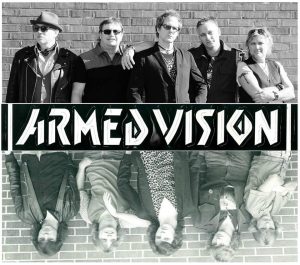 Inside the Interview:
03:40 – About the big reunion show coming up on July 28th…
04:39 – On the set list and AV merchandise…
06:55 – On Lance's travels, transporting the drum kit, and "drum envy"…
10:04 – Caller #1… Claudio…
11:51 – Caller #2… Todd…
15:25 – Caller #3… Mike…
17:26 – On the beginnings of Armed Vision…
18:39 – On the band's growing popularity…
19:47 – On why the band was a hit from the start, the chemistry, and work ethic…
22:18 – Vintage Armed Vision original song "Tiger At Night" excerpt…
23:52 – Caller #4… Mickey Joe…
26:19 – The dark times for Armed Vision… the bus accident and loss…
30:53 – On the original 5 members and the upcoming reunion show…
31:32 – On new members and the last era of Armed Vision…
33:26 – On the influence of Armed Vision…
34:57 – Reunion show details one more time…
35:52 – On the possibility of future Armed Vision shows…?
36:55 – Tom's post-interview final thoughts…
Connect with Armed Vision:
Facebook Page: www.facebook.com/armedvision
>> A 'Sound Matter Moment' >> www.soundmatters.tv/gettin-better
Episode Sponsors:
>> If you, your business, or organization is interested in sponsoring the Sound Matters radio show, please email us at soundmatters@tomleu.com
**On-demand show podcasts and streams of all episodes will be available the week following each show's air date on this site, as well as on iTunes > HERE.
> Until we meet again… Stay tuned-in…
Click below to listen to recent Sound Matters radio episodes: