Book Spotlight: Anatomy of a Song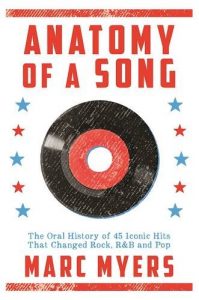 Book Spotlight:
Anatomy of a Song (2016) by Marc Myers
The author of a Wall Street Journal column of the same name pulled together a collection of his articles that go behind 45 of the greatest songs in Rock, Pop, & R&B spanning 40 years. Through interviews with the artists, songwriters, engineers, and producers who created and shaped these classics, Marc Myers gives us access inside the mindsets that were the muse for these tracks that became radio staples during the second half of the 20th century. Think of these as mini-documentaries chronicalling the creation of timeless tunes across the decades.
Included here are anecdotes and conversations that reveal how the music came into existence… the impetus and the inspiration. The stories behind the song from those who created it. It gives new meaning, and a new appreciation perhaps, for the art songwriting and record production. More than just songs on the radio, it makes these pieces of our collective culture more meaningful; more human. When you know the where, when, why, and what, it makes you feel even more. And isn't that the whole point of music?
I love any work that takes me behind the scenes to reveal the little know facts that led to the creation of great things. The struggles, the rewards, the pain, the perseverance to create… I find that uplifting and encouraging. It makes me believe that maybe I can too… it gives the work more meaning, and therefore it means more to me. Maybe it will for you too…